Mid Warwickshire Yacht Club Winter Mooring Members
Winter Mooring Dates
Moorings are available to members from late October to late March and possibly the middle of April where space permits.
Membership and Winter Mooring
Winter moorers are full members of the MWYC and have full use of the club's facilities including mains electricity, water, chemical toilet emptying and craning out if required. They are also invited to the clubs social events and expected to take part in the work parties and security patrols while moored at the club.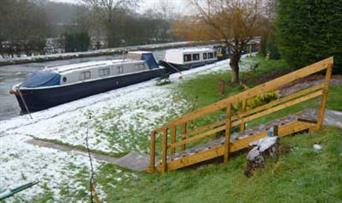 Mid Warwickshire Yacht Club offers its members who cruise Britain's Waterways during the summer months a
secure winter
"Home Mooring" on the Grand Union Canal in Warwickshire, just a short drive away and central to Coventry, Warwick, Solihull and South Birmingham.
As full members of the MWYC winter moorers, while summer cruising can take advantage of all the courtesies offered through AWCC membership
Winter Mooring Fees
Winter mooring fees are pro-rata that of the full years mooring fee.
Boat Length Restrictions for Winter Moorers
There is no boat length restriction on winter mooring.

Request for Membership
Membership application form for Winter Mooring is available from the club's Secretary HERE